Monday, May 24, 2004
|
Thursday, May 20, 2004
Catholic Answers Forum
Hey everyone! I'm sorry I've been neglecting this blog site and not posting! BUT... I've been absolutely enthralled with the brand new
Catholic Answers Forum
!
It is a GREAT, GREAT place for anyone who wants to learn more about the Catholic Faith. If you have a particular question, just post it up! There are literally thousands and thousands of Catholics on this one, tiny site that will answer your question within seconds! I asked a question and it was answered within 30 seconds. No lie. It's awesome. Or, you can just read all the other posts that people have posted and you can learn a TON just from reading it. Great stuff. I love it!
My username is "Boomer Sooner"... so I'm sure you guys will see me on there a lot. So go check it out and have fun!!
|
Monday, May 17, 2004
THÉRÈSE IS COMING

Hey guys, this is the new movie for Therese of Lisieux. It's going to be great! I've seen previews...

The momentum for the national release of THÉRÈSE this OCTOBER 1ST, 2004 is building and the hunger for this film about the precious soul of Saint Thérèse is certainly increasing. All of us must double our efforts to bring the life of THÉRÈSE to this modern age.

Please encourage everyone you know to fill out the support form SEE THÉRÈSE on the website, http://www.theresemovie.com, to bring THÉRÈSE to your community.

You'll find the SEE THÉRÈSE support form in the upper right hand corner of the main page.

|
Friday, May 14, 2004
Bishop Issues Communion Warning to Voters

From foxnews.com:

DENVER — The Roman Catholic bishop of Colorado Springs has said Catholics should not receive Communion if they vote for politicians who support abortion rights (search), stem-cell research, euthanasia and gay marriage.


Bishop Michael Sheridan (search) said voters should receive the sacrament only if they recant and repent in the confessional. However, he said no one will be enforcing the rule in the Communion line.

While several U.S. bishops have issued similar warnings to Catholic lawmakers who defy church teaching in policymaking, Sheridan is believed to be the first to expand that directive to voters this election year.

Archbishop Raymond Burke of St. Louis said previously he would not give Communion to Democratic presidential candidate John Kerry (search) because the senator backs abortion rights.

Archbishop Alfred Hughes of New Orleans and Archbishop Sean O'Malley of Boston are among those who say Catholic politicians who dissent from church teaching should not seek to receive the sacrament.

Sheridan made his comments in a May 1 pastoral letter published in the diocese's newspaper and sent to each parish in the diocese. It is the second-largest in Colorado, covering 125,000 Catholics in 10 counties.

The bishop's statement drew sharp criticism from some quarters.

"I think it is an outrageous intrusion into what is supposed to be the separation of church and state. It is frightening," said Michael Merrifield, a Democratic state lawmaker who is not Catholic but represents part of the heavily religious Colorado Springs area. "It goes against everything that we believe is important to democracy since we founded this country."

In his letter, Sheridan said the separation of church and state does not mean that the "well-formed consciences of religious people should not be brought to bear on their political choices."

"Any Catholic politicians who advocate for abortion, for illicit stem cell research or for any form of euthanasia ipso facto place themselves outside full communion with the church," he said.

Sheridan did not return a call Friday from The Associated Press. But he told The Denver Post he singled out abortion and the other topics because they are "intrinsically evil." He also decried same-sex marriage as deviant behavior.

In practice, his warning will probably not have much impact on Catholics taking Communion because no questions are asked beforehand.

Archbishop Charles Chaput of Denver has not taken a stand so far on whether defiant Catholic lawmakers should receive Communion, but he has criticized them, saying they offer a "dishonest public witness."

Several other bishops have said they would not be comfortable denying Communion to Catholic politicians.

A special panel of the U.S. Conference of Catholic Bishops (search) is developing guidelines for church leaders in their relationships with Catholic lawmakers. But it's not clear whether any action will come before Election Day.

|
Tuesday, May 11, 2004
Percentage of Catholics in the World Slips

Diocesan Priests Increase Since '78; Religious Decrease

VATICAN CITY, MAY 10, 2004 (Zenit.org).- The number of Catholics in the world is increasing, but their percentage has decreased slightly, according to newly released Church data.

The Statistical Yearbook of the Church for 2002, prepared by the Central Office of Church Statistics and just published by the Vatican press office, tracks data from the start of John Paul II's pontificate through 2002.

The yearbook indicates that the crisis of the dwindling ranks of diocesan priests has passed, but not the crisis of religious vocations.

The number of Catholic faithful rose from 757 million in 1978 to 1.07 billion at year-end 2002. By continent, the increase was 150% in Africa; 74% in Asia; 49% in Oceania; 45% in the Americas; and 5% in Europe.

Yet, the percentage of Catholics as a share of world population dropped. In 1978, 17.99% of the world's inhabitants were Catholic; in 1990, the tally was 17.68%; and in 2002, 17.2%.

Half the world's Catholics are in the Americas (49.9%); 26.15% in Europe; 12.84% in Africa; 10.3% in Asia; and 0.78% in Oceania.

The overall number of priests decreased 3.78%, from 420,971 in 1978, to 405,058 in 2002.

A closer study of the data reveals that the number of diocesan priests increased by 1.85%, to 267,334 from 262,485. The number of religious priests fell by 13.1%, to 137,724 from 158,486 in 1978.

Professed men religious (non-priests) plunged by 27.67%, from 75,802 in 1978 to 54,828 in 2002.

Professed women religious fell by 20.98%, from 990,768 to 782,932 in the same period.

Permanent deacons grew by 441%, as their ministry was reintroduced after the Second Vatican Council. In 1978 there were 5,562 permanent deacons; by 2002 they increased to 30,097.

The number of candidates to the priesthood (students of philosophy and theology), both in diocesan as well as in religious centers, soared from 63,882 in 1978 to 113,199 in 2002.

Of those, 65% are diocesan seminarians; 35% belong to religious congregations.

From ZENIT.ORG.

|
Wednesday, May 05, 2004
Fullness of Truth Catholic Evangelization Ministries
Buckle up your seatbealts, everyone!
We're going on a road trip!
MARK YOUR CALENDARS! This one is a must-do!
Dallas/Fort Worth (Arlington), Texas Conference
July 30th - August 1st, 2004
at the:
Arlington Convention Center
1200 Ballpark Way - Arlington, Tx 76011
Fr. John Corapi, Christopher West, Tim Staples, Rosalind Moss, Alex Jones, Marcelino D'Ambrosio, and Steve Bollman
will all be speaking at this awesome event! Almost all of them have
amazing
stories and are absolute gems to the Catholic Church.
Click here for more information on the conference
.
Be sure to keep checking back for more info. I'll eventually put this all under the 'Upcoming Events' page. It costs $25, and we'll probably all end up staying in a hotel somewhere since it's an all-weekend thing. I don't know. "Details to be decided". But go ahead a mark those days on your calendar! I promise you it will be worth it!
|
Yo! Where are the comments boxes???

|
33 new Swiss Guard recruits to be sworn in tomorrow
|
Tuesday, May 04, 2004
PARTAY AT LUCIO AND KEN'S

Hey guys, even though Ken my roommate doesn't know it yet, you are all invited to a get together at our place this Friday at 7pm. The reason?? My graduation! I'm not the type for parties and socials, but...as my Mom sees it...it was either this or a party in Tulsa with a bunch of older people(hard choice isn't it?).

So, let's Meetup! If you need directions........go down Chautaqua towards Highway 9 from Lindsey, on the corner of Chautaqua and Inhoffe you shall find Yorkshire apartments. We are #103. There are three main buildings...we are the one farthest from Inhoffe on Chautaqua.

B There, or B Circle...or Square...or Something!

Lucio

|
Umbert is the greatest! He's currently residing at www.catholic.net.
|
Challenge Accepted
Challenge accepted -- although due to Finals Week -- I can't divulge as much into as I would like to. But here's a few things I was able to find out:
P. N. Harrison
The most influential work concerning the "linguistic problem" in the Pauline books was published in 1921 by P. N. Harrison, who marshalled considerable stylistic and word-usage evidence against Pauline authorship in terms of tables, word counts and numerical data. His approach has come to be called the "statistical method". The statistical method in general, and Harrison's work in particular has wide reference and influence in contemporary works.
His linguistic argument may be summarized as follows. The language of the Pastorals shows obvious pecularities as compared with the other ten letters. Harrison concedes that every Pauline letter has certain characteristic expressions, and the lack of others. Yet, taken as a whole, the letters form a clearly defined series with the variations among them within certain limits. Yet, Harrison feels that the Pastorals cannot be brought into this series because of greater linguistic differences. Therefore, he suggests that the Pastorals were not written by Paul, but by a "Paulist" with the other ten Pauline letters before him, sometime between A.D. 94-150.
Harrison's (statistical) data are as follows: 1) 36% of the words (848 total vocabulary) occurring in the Pastorals do not occur in the other ten Pauline letters; 2) 175 hapax legomena; 3) 131 words occur in the Pastorals and other New Testament books but not in any other Pauline writing; 4) large number of words that Paul uses in his other letters are absent from the Pastorals (582 words peculiar to Paul and 1053 also occur in other New Testament books); 5) particles, prepositions and other minor parts of speech which are clearly Pauline, are for the most part lacking in the Pastorals; 6) the language of the Pastorals is said to show a clear relationship with the language of the Apostolic Fathers and the Apologists in the second century.
-- So your friend is stating that the 1910 Catholic Encyclopedia made its statements before they got to read Harrison's research (this much is true). But the idea of doubting "Pauline authorship" isn't new, as we will see...
Pauline Authorship
As for this, I'm afraid I don't have any real concrete evidence here. There indeed was some debate in the early western tradition regarding the Pauline authorship, but it was
fully accepted
in the East and then in the West by the fourth century--and reaffirmed by the Biblical Commission of 1914.
But Mr. Harrison isn't the first person to come up with the theory that it wasn't Paul -- infact his theory was just a repeat of what was stated centuries earlier. Origen regarded the
thought
as that of the Apostle but the actual writing to be that of some unnamed disciple --possibly St. Luke or Clement of Rome. Ultimately, as Origen wrote, "But who wrote the epistle, in truth God knows."
Then I went to EWTN's website and was looking around and found out that we weren't the first ones with this question on Pauline Authorship (On of the benefits of being a member to a 2000 yr old church is that you'll never be the first person to have a question on something -- haha). Here are some letters to EWTN's Father Echert:
Letter 1
,
Letter 2
... There are a few more articles on the subject at that website. Just go
here
, then search for "Pauline authorship" under 'Go back forever'.
I'm afraid -- for the time being -- I'm going to have to throw in the towel on this one, and pass the apologetics torch to someone else. (Just a thought -- If you want to bring in the 'big guns'... I'm sure Fr. Tharp will have some insightful answers on the topic).
|
NEW APOLOGETICS CHALLENGE!

Ok, I've been talking to my friend Josh about Pauline authorship of the Pastoral epistles (mainly Timothy and Titus).

I sent him (what I thought) was an excellent article from the Catholic Encyclopedia. It responded to several objections.

However, Josh wrote me that it's interesting that none of the scholarship the article cites is after 1910. He then says that he finds it interesting that the article doesn't even mention a man named Harrison, who I guess is the watershed scholar for Pauline authorship (or lack thereof, as the case is here).

So, I want to know if there are any good Catholic responses to this Harrison Bozo. Or any responses that are more modern than the entry in Catholic Encyclopedia.

Get to work, my comrades.

|
Who would win the Handsomest Ghoul Award, Lurch or John Kerry??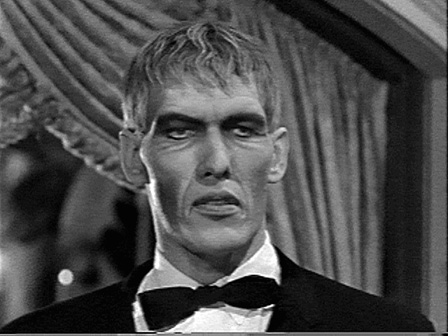 My money's on Kerry.
|
|
And thus marks my tribute to two of my favorite priests, the Catholic Ragemonkeys.

Sung to the tune of "A Few of My Favorite Things"

Mantillas for ladies, and heads marked with ashes
Cassocks with piping and watered-silk sashes
miters and croziers, episcopal rings
These are a few of my favorite things

Processional candles and thurible smoking
Crosses and Latin for all of the chanting
Bright shiny marble and bells that go "ding!"
These are a few of my favorite things

Silk damask vestments and torch-bearing servers
Incense and candles adorning high altars
"Ecce Sacerdos..." the choir would sing
These are a few of my favorite things

When R.E. bites
Parish budget stings
When I'm feeling sad
I simply remember my favorite things
And then I don't feel so bad

By Father Steve Hamilton and Father Shane Tharp.
Check them out! http://ragemonkey.blogspot.com

Oh the joys of being Catholic!

Ok, seriously, goodnight.

|
Man, Ken and JP, you guys are on fire! You are like the Blog Masters of the Universe! Blog weaklings like myself, with scattered thoughts and pithy quotes, quail in your presence!

I guess the only thoughts I have today, after catching up on today's blogging, are:

--It's all Sara Lee from now on.

--No matter how much Americans beg for it, the Catholic Church will never, ever, ever be a democracy. Thank God.

Goodnight, fellow Catholics! Remember, bloggers, every once in awhile, it's good to study! Especially during finals week! You know who you are!

God Bless--
Katie

And Chris, godspeed to you my friend! Keep us updated!

Oh, does anyone know when the Lucio egg-pelting will happen this week? I'm looking forward to it.

|